pH Balance and Nutrient Absorption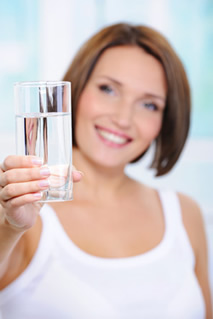 It has been shown that a body which is pH balanced more readily absorbs more nutrients from both food and supplements. You get more value from the supplements you purchase and the more nutrients from the food you eat when you have a pH level that is in balance.
Acidic blood can block vitamin absorption and starves your body of essential nutrients.

Your body is able to assimilate minerals and nutrients properly only when its pH is balanced. It is therefore possible for you to be taking healthy nutrients and yet be unable to absorb or use them. If you aren't receiving the results you expected from your nutritional or herbal program, consider your waters alkalinity. Even the right herbal program may not work if your body's pH is out of balance.
About pH Balance
What we eat and drink will impact the functions of our digestive system as well as our pH levels. This will control every metabolic function and how we utilize our enzymes, minerals, and vitamins.
The acid alkaline balance of the body is measured by the body pH factor. The pH [potential of hydrogen] ranges from 0 [extreme acidic] to 14 [extreme alkaline]. There is a tenfold difference between each number. For instance, a body pH of 5 is 10 times more acidic as a body pH of 6. Optimally, we want the fluids in our bodies to have a neutral pH level, which is 7.0-7.4. A pH less than 5.3 indicates an inability to assimilate vitamins or minerals. A pH below 7 is acid and above 7 is alkaline. No health disorder or disease can possibly sustain itself when the pH is maintained in the neutral zone. This is true for every man, woman and child. At this level, the body is highly oxygenated; it detoxifies and heals itself; cells are energized; and it has a strong immunity.
High acidity enters our bodies by eating processed foods, pre-packaged foods, sugary foods, white flour products [including pastas], dairy products [including milk, cheese, ice cream], alcoholic beverages, drugs, processed table salt, foods grown and processed with pesticides, preservatives, antibiotics, or hormones. Meats, including beef, chicken and turkey, also promote acidity. Because of the acid overload in our environment, most of our drinking water now contains acid. Even stress creates excess acid. If you're not getting enough sleep or exercise or are facing lifestyle changes, you probably have more acid than your body can handle. Your cells are absorbing acidic toxins much faster than you can get rid of them through your colon, lungs, skin and kidneys.
According to the U.S. Senate Document #264, (1936), "It is bad news to learn from our leading authorities that 99 percent of the American people are deficient in minerals." It continues, "Our physical well-being is more directly dependent upon the minerals we take into our systems than upon the calories or vitamins, or upon the precise proportion of starch, protein or carbohydrates we consume"